How you can help...
Do YOU like making slime? Want to have fun, make some slimy slime or peculiar putty? How about helping a lucky kid in the community who needs an adaptive bike? YOU can make that happen! By taking our SLIME CHALLENGE, you'll be able help a kid get a new set of wheels in time for the nice weather. Here is a video of a boy named Joey, riding his adaptive bike for the first time, from Preston's March for Energy so you can see what an adaptive bike looks like.
You will be able to see:
1. How a kid gets on the waiting list for a bike
2. How it gets ordered
3. What it looks like when it arrives (hint: it's in LOTS of pieces),
4. How the bike gets built, and
5. You can BE THERE to see the bike given away, or experience it through LIVE video!
It's kids helping kids…we know how much fun it is to ride a bike, now kids who have special needs can have the same experience because of YOU!
You can do this on your own, or share the idea with your girl/boy scout troop, sports team, activity club-you can even be a TEACHER who wants to make it a classroom project!
It's about ALL of you working individually, but TOGETHER as a group to make a BIG change in another kids life. Can you imagine if everyone in your class, or on your team, raised $100?! You might be able to fund a bike with YOUR group alone!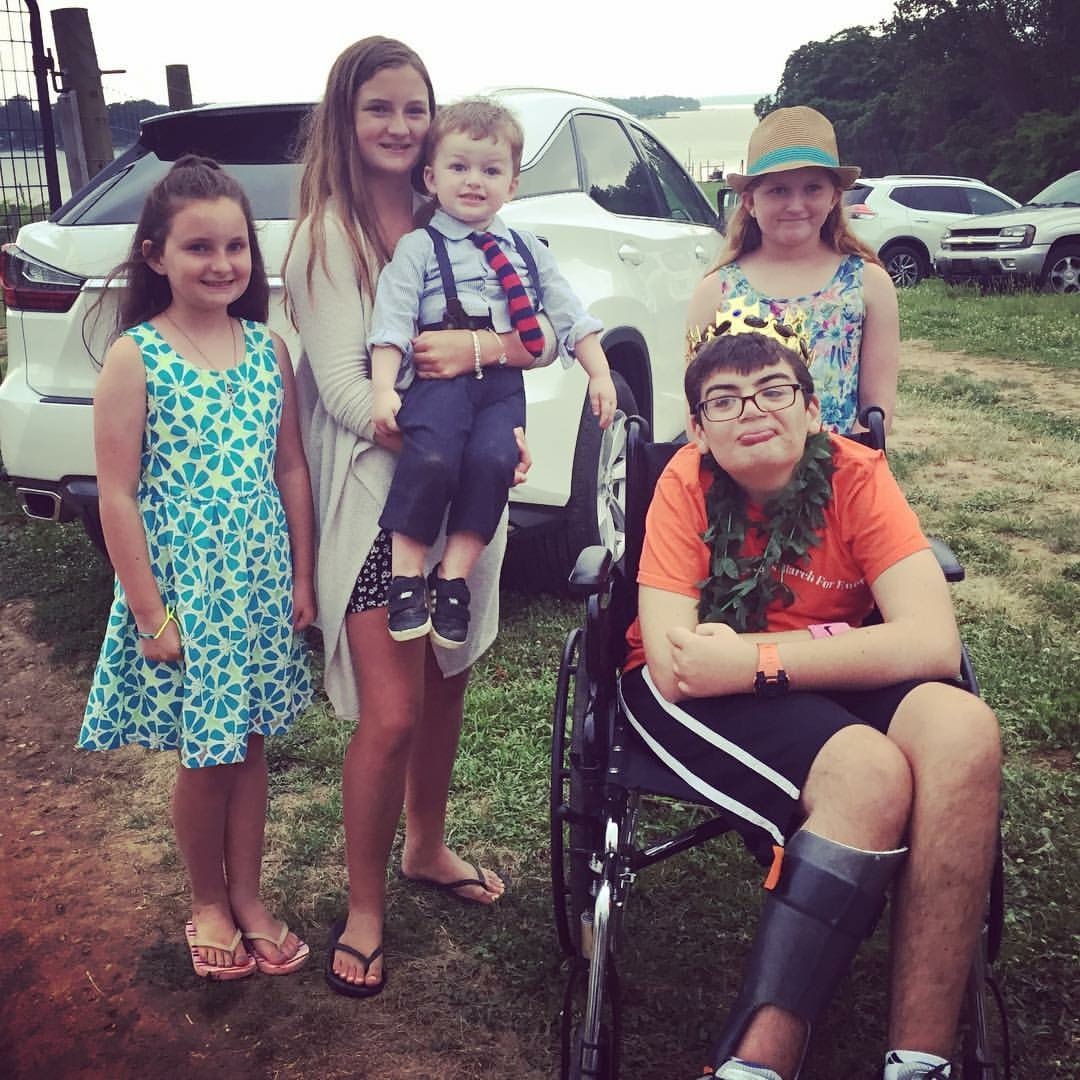 How you can share...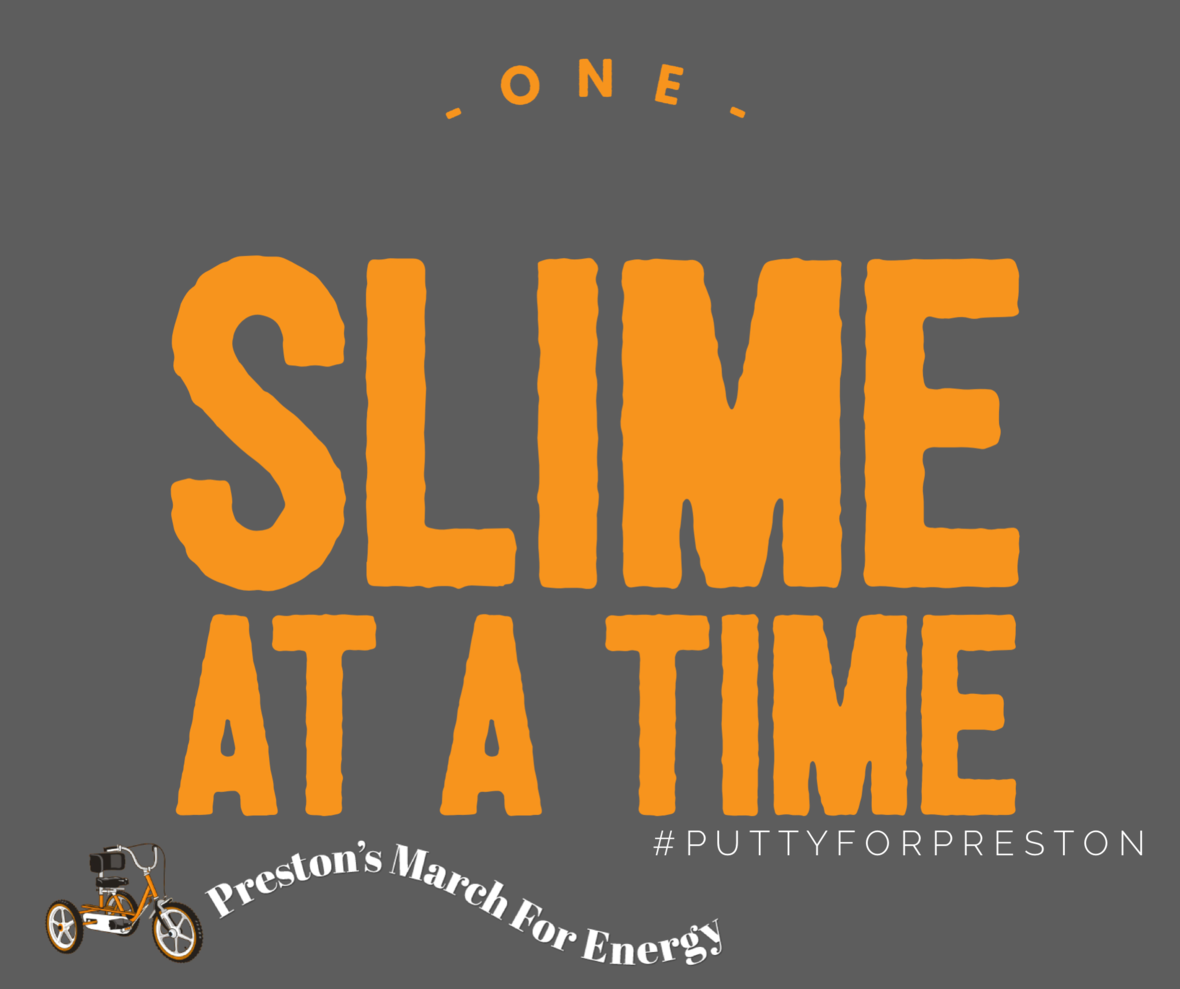 A typical bike costs $1700-so we are hoping that if each of us has a goal of raising $100 in donations, we CAN make it happen and bring a bike to life!
Example:
If 17 kids raise $100= $1700 bike cost COVERED! (Or less kids raise more money…..=bike cost covered! Or MORE kids raise MORE money…..we can build 2, 3 maybe 4 bikes!!)
ARE YOU UP FOR THE CHALLENGE? We hope you say YES and join us! We hope to meet you over on the Putty for Preston Facebook group page (yes, our mom Jenn is running that part…..)
Your Friends,
Taylor: Peculiar Putty for Preston, Back Office Wiz
Brooke: Peculiar Putty for Preston, Slime Maker
Peyton: Peculiar Putty for Preston, Slime Tester
How people can donate
We want this to be simple for you, because you have slime to make…so for your donors to be able to donate easily, we have a crowd rise account linking directly to this SLIME CHALLENGE.
1. People donate to crowdrise page
2. They get a receipt from their tax-deductible donation
3. You give them some slime as a thank you
4. If your parents post pictures of YOU making slime? And share what you're up to? Use the hashtag #puttyforpreston so we can see all of the cool photos!
5. That's it!
Ask your parents to share on social media what you're doing. They might say something like this:
"Hey Everyone! My son/daughter has taken the Putty for Preston Slime Challenge as a way to help raise money to fund 1 adaptive bike for a child with special needs. The bikes are given all over the country to kids who need one, but there is a long waiting list. you can help __your kids name here__ by making a donation to their crowd rise page HERE, we are asking for a minimum $10 donation, but really any donation is more than welcome! A bike costs $1700 to create, and is fitted specifically to the child who will get it. we will get to be part of the entire process and we are so excited to be a part of this movement where kids are helping kids! If you would like to donate, or your kiddo would like to GET SLIMED with us? Let me know and we will add you to the group! you can live anywhere on earth and participate. AND…if YOU KNOW a kid who could use an adaptive bike? Please let us know and we will get them on the waiting list! Thank you in advance!"
And when someone does donate to your challenge? Send them a thank you badge on social media (well, your parents can). See below: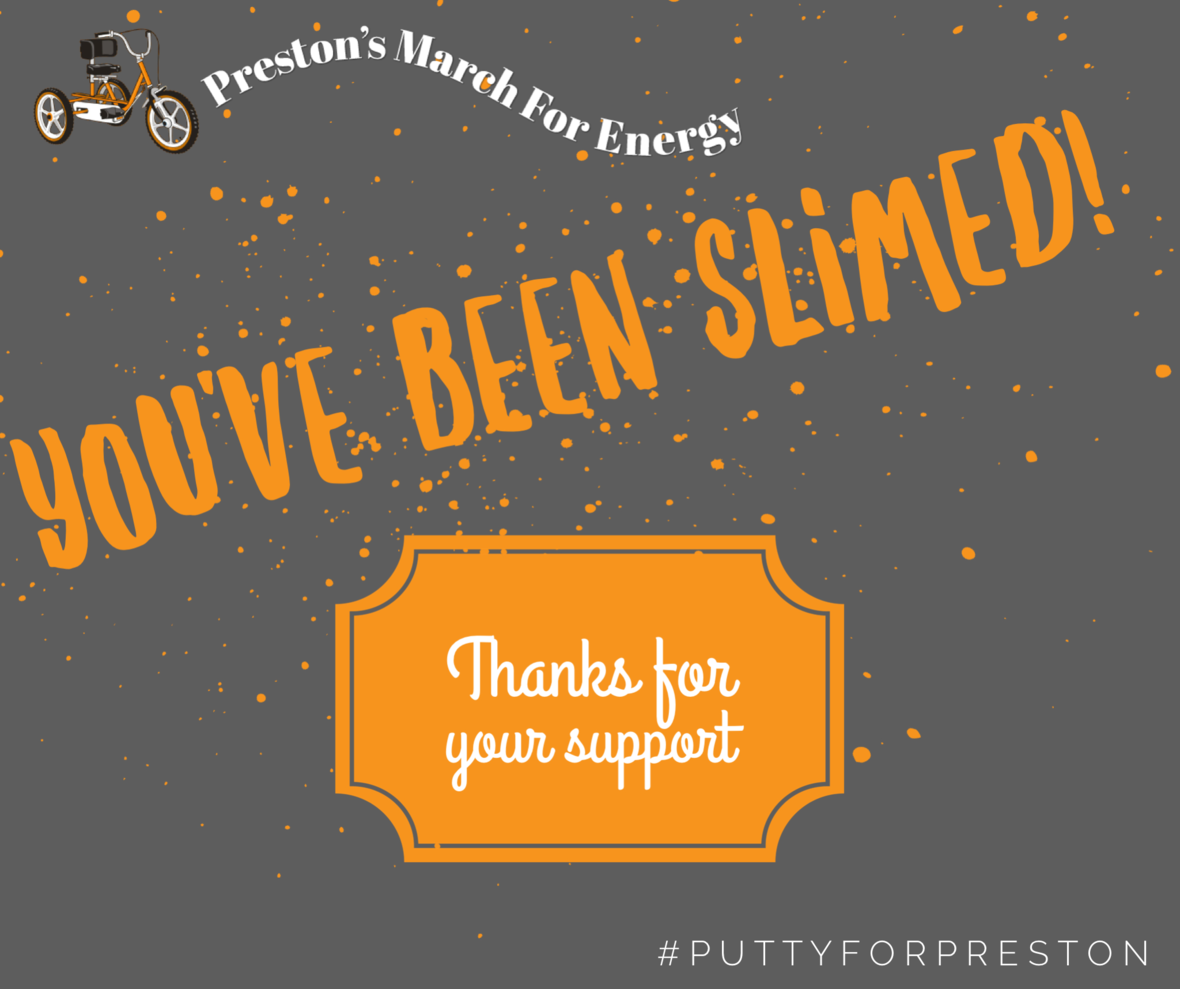 Questions...
QUESTION: Do I have to make slime to participate, or can I just share and have people make donations?
No, you don't have to make slime to participate, but let's face it, slime is messy and fun and this gives you a reason to make a gigantic mess.
QUESTION: Can anyone participate? I don't live anywhere near you.
YES!! Anyone, anywhere can participate. If you live on earth, and have wifi to get on the crowd rise page…you can participate! Even if you don't, you could still mail a donation check to Preston's March For Energy and say that the donation needs to goto the Putty for Preston Challenge. If you know a kid near you who needs an adaptive bike? Let's get them on the list!
QUESTION: Can my group participate and make whatever kind of slime we want?
YES! You can make whatever you want and have fun with it. If you want to nerd-out and get all science-y on it like we do? It's a cool way to learn about polymers!!
QUESTION: Is there a deadline?
Well…not really, but sort-of. We think this is something that can go on forever, really…..because there will always be kids who are in need. BUT we will be focusing on funding one bike at a time. So if we get lots of people to TAKE THE CHALLENGE? Then we can make this bike happen quickly. We would like to be able to have a bike funded by the spring so kids can get outside and ride their bike!
QUESTION: Do I have to collect the money?
No, the Crowdrise link is set up to accept donations for you, on your behalf, and that way we can see how close we are collectively getting to our goal! Once we hit $1700, we will consider that bike #1! And can keep going forever if we all want to! You can participate for as little or as long as you like.
QUESTION: Will I learn about kindness, empathy and empowerment?
Yes, you will. Because you will see how powerful kids can be, and how you can make a change in your community in a really fun way. You will put yourself in another kids shoes, and because of how that makes you feel, you'll be showing kindness to a complete stranger. And it will be awesome.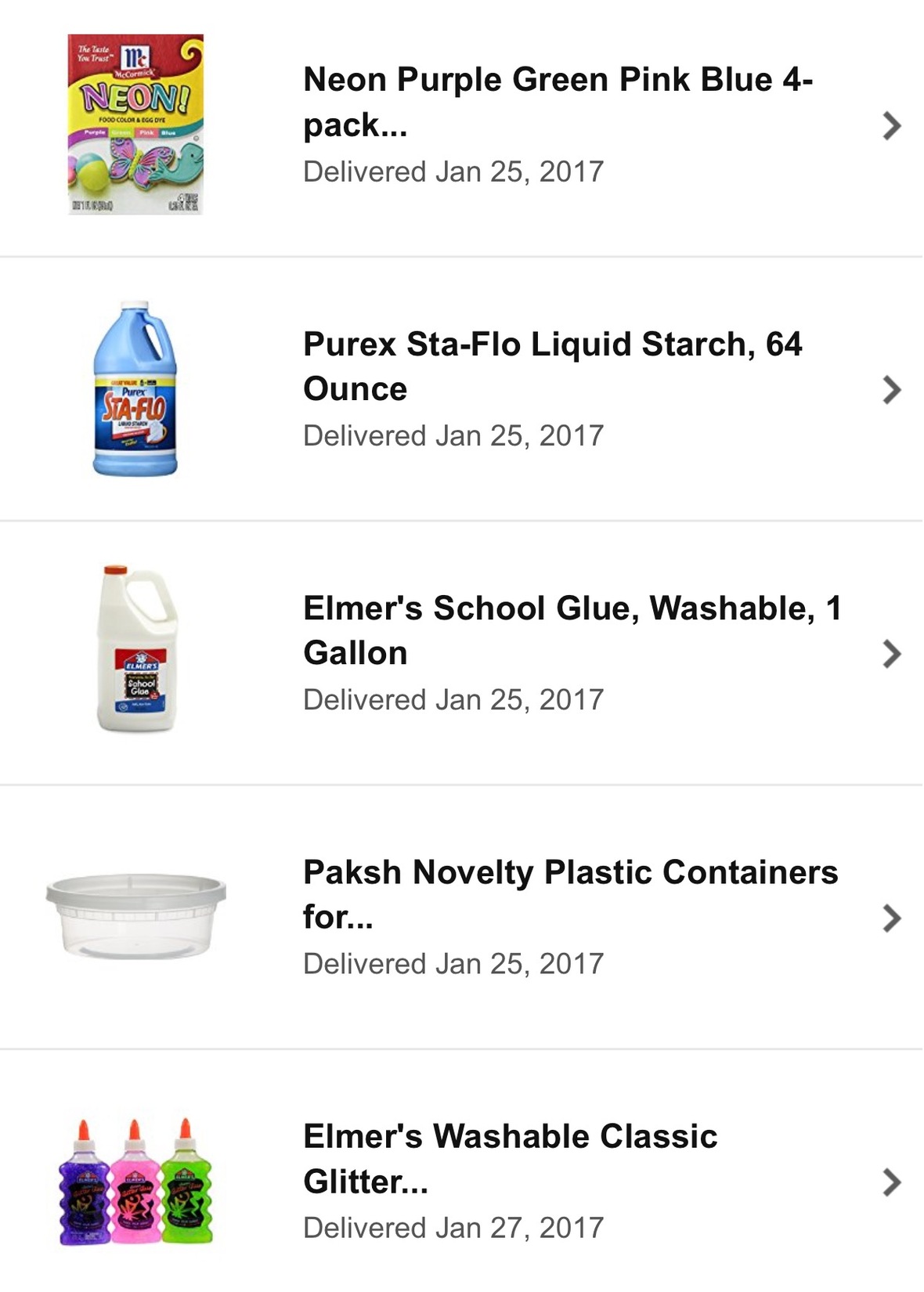 Supplies and Sample Recipes
Our mom buys all of our Peculiar Putty for Preston supplies from Amazon.com since you can get large amounts of supplies for cheap This isn't a sponsored post, it's just where our mom gets everything on earth, so…..
We have tried many ways to make our peculiar putty, and have liked how it turns out best when we use glue, liquid starch, and food coloring. Lately we have been adding shaving cream to the slime because it makes it kind of "fluffy" and it's fun to feel. We have found that is is also fun to poke a straw into our slime and blow interesting bubbles with the slime! We will make videos and post our recipe on the Facebook group page.
Here are some slime making videos that we like, you can make your slime any way you want, but there are many ideas on YouTube and websites like this one HERE. It has Brooke's unicorn Poop Putty recipe as well (she will share more as she goes). We put our slime into 8oz deli containers, but Amazon also has plastic easter egg type containers that will hold 4oz.
Thank you for joining us and helping to make a difference in another kids life! You don't have to know someone to want to help them. And something tells me after you help bring this bike to life, you'll have a friend for life!
Contact info: Jennifer Doyle Boileau (jennlynn75@yahoo.com) or Deb Buenaga for more information/questions.
---